Trail Studio Photo Printing & Framing Service – FAQ (about ordering and production)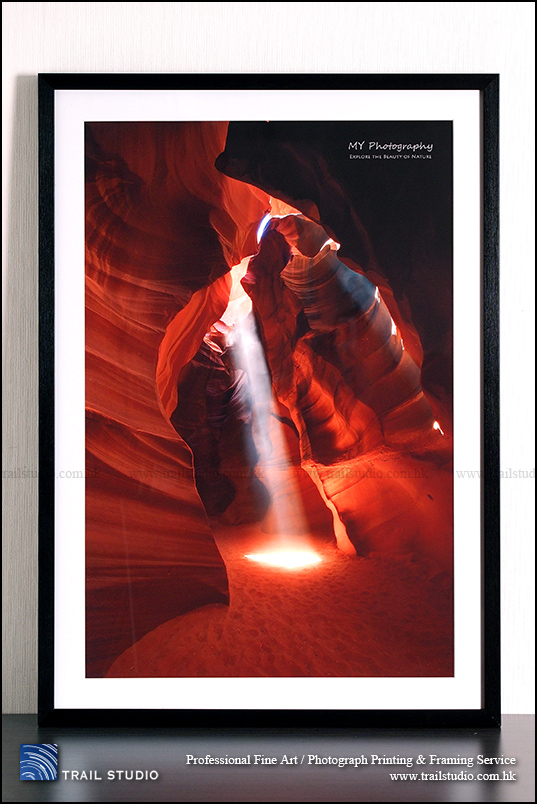 1. Can I bring the file to your shop for a discussion/quotation, and have it printed immediately?
We do NOT support walk-in ordering, immediate-production or phone-quote.

Choices of product and size are largely individualized. We rely on website to provide details and pricing to help customers make their purchase decision. We support email-ordering only, it's simple & easy to follow our ordering-instructions to do so. Different from common automated small-size photo printing, large photo printing is very workmanship-intensive, jobs are carry out on first-come-first-serve basis, we do not accept urgent orders.
2. How long does the production take?
Approximate production lead-time of our made-to-order, high quality handicraft productions: print-only 7-10 working days; printing with framing 20-25 working days after order confirmation.
Different from automated small-size photo printing and signage/poster printing, the above production lead-time is normal in the real high-quality photo/fine art printing industry. We have to spend time and patience in every steps to ensure quality. Because of our workmanship nature, the expected lead-time is estimation, but we always work ASAP as long as quality is assured, because time is one of our major cost.
Some customers also told us that they've used some other services with much quicker claimed "average/usual" lead-time, but received the product much slower than that, which weren't happy experiences. To us, reliability is part of service quality, we don't bait customers with a likely unachievable "average/usual" lead-time.
3. Besides photography, do you print other graphic art/digital art as well?
Yes, indeed we always print fine art/digital art – giclee-printing technology is meant to print photography and fine art.
Usually, canvas and fine art papers should be chosen over photo-papers for drawings, paintings and illustrations, otherwise the print will look like poster rather than a high-end art print, as tactile-quality and medium-matching do matter. Artwork digitalizing service is available only to commercial customers with large-quantity; general customers have to supply us with the authenticate, readily-printable digital file.
4. Why I must send my file to get a quote for special sizes?
If you just need preliminary pricing idea at the moment, please feel free to check out our website and use the closest but larger standard size as reference.
The printable-file is compulsory when quoting special sizes. We do high-quality productions, your file and the specifications also affects quality or even feasibility. We have to check the file for any print-related problem (size mismatch, resolution and a lot more) and give suggestions/corrections in order to calculate a practical quote, otherwise there is exceptionally high change to end up with invalid quote after spending time and effort for both parties.
5. Why you don't frame a photo in accordance to my own specifications?
The specifications of our products or construction of our photo frames are drawn up with long-term knowledge and experiences.
A lot of customer-supplied specifications can be problematic, for example, the size/aspect-ratio of a print or a frame is mis-matched; the requested structural specification is not strong enough, and there is a lot more. Large size photo frames look simple, but there is a lot of know-how. To ensure everything meets our quality and safety standard, we will only do it in accordance to our own specifications, as listed in our website.
6. Are canvas-prints dedicated to print large wedding photos? There are some "wedding canvas printers", are they more professional in printing wedding canvas?
In the Chinese culture, couples usually take pre-wedding portraits and use them as wedding banquet decorations. It's so common that some people misunderstood canvas-print is dedicated to these wedding photos, and there may be some "wedding canvas printers" around.
Besides wedding couples, our customer-base is of very wide variety, including international organizations and famous artists. As we are capable to offer true high-quality service to satisfy everyone including the most quality-demanding people, it sounds irrational to give up the wide spectrum of customers, but target only a narrow-scope of customers who are usually without too much idea about print-quality.
A lot of experienced customers told us they used some easily found cheap, quick and so-call "high-quality" canvas-printers before but were disappointed, and they're now happy because they can immediately notice significant quality difference when they collect their new canvas from us.
7. Those "wedding canvas printers" and some digital printers usually offer banners, photo albums, invitation cards as well as large canvas, why you offer large-format photos and canvases only?
We're specialist of giclee-printing. This printing technology, together with our dedicated resources, effort and knowledge, all contribute to our high-quality, reliable service. We produce ALL of our products in-house in our Hong Kong workshop and made us the real specialist of high quality large format photos.
In contrast, banners , albums etc. are sub-category of printing, different sub-category uses different printing machines and equipment, small-scale companies may not have every equipment or specialist for every products they offer, but outsource different type of printing jobs to different companies, thus quality is less guaranteed and with high risk of file/privacy leakage.
Indeed, many printers use the same printing technology (e.g. solvent-print) in printing canvas and banners, so they offer canvas at a much cheaper price but banner-quality, which is not qualify to print serious photography or as high-quality wall-decoration. In our philosophy, no decoration is ALWAYS better than bad decoration.
8. I really like your service but why small sizes such as 3R/4R are not available from you?
Common 3R/4R photos are printed with automated small-size photo machine, they can do it with low cost but they can't print large sizes.
Giclee-printers are optimized for high-quality, large-format printing, the printing process is not automated and every step need close-monitoring and careful handling, giclee-print small size is very expensive but for most people it is too small to care for any quality difference.
We do print small sizes to our familiar-customers who understand giclee-print well and don't mind to pay that premium cost.
9. There're a lot of product types, which one is the best or which one should I choose?
The most expensive one may not always be the best for you. What is best for you depends on your own liking, type of photography, display environment and budget etc., it's very important to read the descriptions on our homepages to know their characteristic. Here's an over-simple guideline which may help you:
a) If budget is not your concern, all you want is the highest possible quality (image quality, tactile quality and archival-safe), Framed Fine Art Paper is usually the best product for all uses.
b) If you've a good budget to spend, you want very high quality, consider Framed Professional Photo Paper or Fine Art Canvases. Note that Photo Papers are not very suitable to print paintings or drawings, Canvases are not very suitable to print group-photos of very large group of people because the canvas texture, while looking artistic, can be a bit coarse and ignoring when people's faces are small on it.
c) If you're looking for cost-efficient yet reliable options with decently high quality, go for Framed Laminated Photo.
b) If your budget is a bit tide, or the photos needed to be ready soon (let's say in 2 weeks) for an event, or you plan to change content periodically, consider printing-only on Professional Photo Paper and buy a picture frame at IKEA to DIY.